Sigma Mixer with Extruder Screw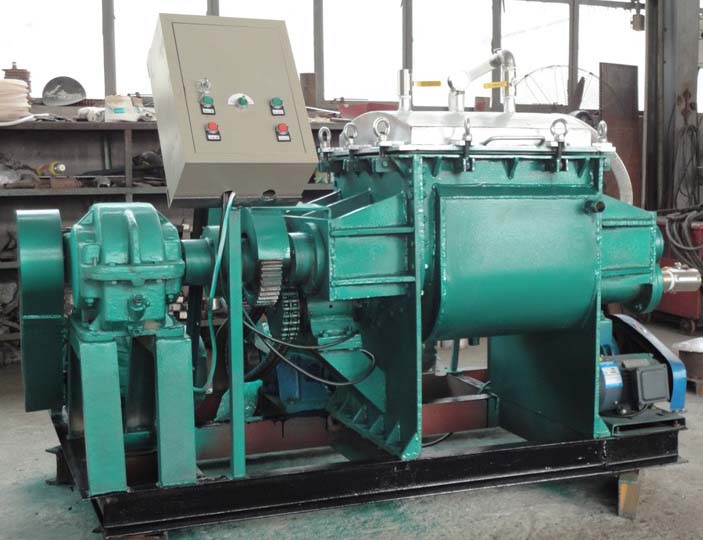 Product Details:

| | |
| --- | --- |
| Categories | Mixing Equipment |
| Capacity | 1000 Kg |
| Application | Powder |
| Power Load(HP) | 10-20 HP |
| Blades Used | Sigma-Z blade, Spiral blade, and Naben blade |
The Sigma Mixer with extruder is used for mixing, kneading and extruding of highly viscous mass, sticky and dough like products, Mixing of pastes, rubber, and heavy plastic masses, applications in Food, Rubber, Pharmaceutical, Chemical and agro industries, Dry powder to wet phase mixing.

This mixer is most suitable for highly viscous material and dough like masses.
The extruder mixer is designed to handle difficult to discharge products such as hot melts and butyl sealants, as well as other medium to high viscosity pastes. This type of mixer combines the action of the Double Arm Sigma Blade Mixer with an extrusion screw placed in the lower part of the mix trough.

During mixing, the extrusion screw is run in reverse which imparts a third mixing action on the product, increasing mixing efficiency.
The extrusion screw is located in the saddle section and runs in a cylindrical trough tangential to and below the 2 mixing blades.
When the product has finished the mixing cycle, discharge/extrusion is performed simply by running the extrusion screw in a forward direction.
The double arm sigma blades normally continue to run throughout the extrusion process providing a thoroughly mixed product at all stages of the production cycle.
By changing the extrusion die heads, the product can be discharged in round, square, "spaghetti", or any form desired.
Speed variation of the extrusion screw allows adjustment of the product flow, depending on the viscosity.
Optional Features :
PLC Controls with HMI touch screen
Binder spraying system
Product Bowl with Jacketing for heating and cooling.
Flame Proof Electrical.
Safety Features :
Enclosed mixing and discharge provides protection from product contamination and greater operator safety.
Total drive transmission system enclosed
Sigma Mixer Extruder
Product Details:
| | |
| --- | --- |
| Categories | Mixing Equipment, Chemical Equipment, Baking Equipment |
| Capacity | Upto 250 kgs |
| Power Load(HP) | 1-3 HP, 20HP+, 10-20 HP, 3-5 HP, 5-10 HP |
| Material | Mild Steel,Stainless Steel |
| Surface | Corrosion Resistant |
This machine comprises of a double 'U' shaped container welded and machined together inside which rotates two 'Z' shaped sigma blades in opposite directions.
The clearances between the walls and the container are kept to a minimum to ensure maximum efficiency in kneading and mixing. The shafts of the sigma blades are fitted in bearing blocks which are each provided with roller bearings, steel glands/teflon rubber seals for smooth and leakless operations.
The kneader is mounted on a sturdy base frame fabricated out of ISMC sections and are free from vibrations. For cooling and heating jackets are provided.
Hydraulic tilting system is provided with complete power pack, electric motor, pressure valves, pipes, fittings, cylinders and hoses which makes the tilting mechanism quick, easy and simple to operate.
Model

Capacity

(L)

Power (kw)

Rotating speed rpm

Weight

Dimension mm

L*W*H

SME-5

5

0.75

33/23

300

1100*410*510

SME-10

10

1.1

33/23

400

1100*410*510

SME-50

50

3

45/23

600

1500*500*1100

SME-100

100

7.5

35/22

1200

1600*610*1360

SME-300

300

11-30

37/21

1600

2150*850*1300

SME-500

500

15-37

35/25

3000

2550*1000*1550

SME-1000

1000

22-90

35/25

4500

2750*1200*1800

SME-1500

1500

22-90

30-16

6000

3030*1850*1850

SME-2000

2000

30-110

30/16

8000

3060*2250*2070