Stainless steel small chemical liquid mixing tank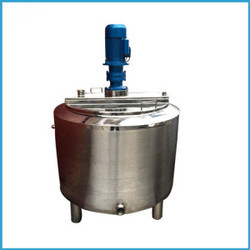 We are manufacturer of double Shaft Multifunctional Mixing Tank, Vacuum Mixing Vessel,single shaft Mixing Vessel .All joints and inside is mirror finished without any dead angle and cleaned easily.
It consists of shell , nozzles , head with the configurations of agitator, double face mechanical sealing .The mixing tank can be produced for the operate pressure from 0-10 barg or more .
Features of 50l mixing tank
Quick open manhole or pressure man hole
Various types of CIP spray ball.
Fly and insect resistant sanitary breathing cover.
Sight glass with sight lamp
Dismountable materials input pipe assembly.
Thermometer (According to customer requirements).
Ladder (According to customer requirements).
Liquid level meter and level controller (According to customer requirements ).
Agitator for the mixing requirement
It can be made according to special requirements of customers .
50l mixing tank Applied range:
Daily use industry: toothpaste, detergents, shampoo, shoes polish, soap, fragrance etc
Chemical industry: Painting, pigment, dyes, paints, adhesives detergents etc
Cosmetic industry: face cream, hand cream, sunscreen cream, eyelash to cream, hair gel, lotion, bath shampoo, nail polish.
Pharmaceutical industry: ointments, syrup, nutrition, bio-products, paste of pharmaceutical etc.
Food industry: sauces, jam, chocolate, butter, vegetable proteins, animal proteins etc.
Technical Parameter:
| | | | |
| --- | --- | --- | --- |
| Item | Heater(Kw) | Mixer(Kw) | Mixer Speed (rpm) |
| 200L | 6 | 1.5 | 0-75 |
| 300L | 9 | 2.2 | 0-75 |
| 500L | 18 | 3-4 | 0-75 |
| 1000L | 27 | 4-5.5 | 0-75 |
| 2000L | 27 | 5.5-7.5 | 0-75 |
| 3000L | 36 | 7.5 | 0-75 |
| 5000L | 48 | 11 | 0-75 |